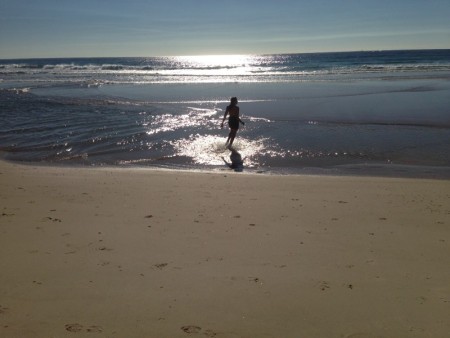 Miracle changes + powerful potency that YOU can have too!
Hi beautiful,
Last week I knew I was in for a treat.
We got to spend a week living in a unit right on the beach!
(ie. going to sleep lulled by the sound of the ocean, waking in the night to see a sky full of stars twinkling at me from the darkness, and literally watching the luminous colours of the morning sunrise from my bed).
It was so easy for me to drop into the slower rhythm of natural time. I felt connected to the organic pulse of nature. The sounds from the ocean became my sound bath as I sat in meditation every morning. I could hear the groaning of the lower deeper sounds of the sea blending upwards into the shrilling laughter of the lighter waves frothing and spilling from the top. If you're ever done a chakra meditation this was absolutely natures version!
Between 8-9am every morning, even though the temperatures had dropped to a 'unswimable' low, the ocean still beaconed for me to come and plunge into her icy embrace! And so I did.
As the beach lay quiet Steve and I joined the surfboard riders for our daily ritual of 'awakening'.
We emerged from the waves with exhilaration and aliveness, the shrill of a 'peak experience' giving voice….. a baptism from the slumber of our everydayness into the potency of the present moment.
Skin burning with the cold I felt expansive and fearless. "Who am I now", I asked myself. What happened to the girl who once would have shrivelled up in contraction and fear of the cold?
"Wow" I said to myself. "the power of your daily practices have changed you! not overnight. but slowly over time".
A few days later back at home in Brisbane I notice my 20 year old son has stayed out into the early hours of the morning as the temperatures plummeted. He'd left home the previous afternoon with only a cotton short-sleeved shirt on. I asked him, "how did you manage the cold?" His reply, "its all in the mind Mum. Instead of shivering I just relaxed my body and said to myself, "its ok. I'm warm enough". "And I was".
It got me thinking again about how when we change our perception, we change our mind, and we literally can change our reality.
As many of you know I've been delving into a lot of neuroscience over the last couple of years, and bringing it into my work and programs.
And the latest I've been learning has been exactly about this topic. About our perception of pain and how things 'should' be. What I'm learning (again) is that our mind is very powerful, and that our beliefs about things can literally make the difference between the experience of more pain or more pleasure.
And so how does this impact YOU?
I want you to know that the pain in your life …..whether it be physical, mental, emotional or spiritual… CAN CHANGE. You can feel better and get better.
We now know that our brains have an amazing neuroplasticity. We can change our brains even as adults. There are key ways to do this.
Right now I just want you to know its possible. I've done it. YOU can do it.
I'll keep you posted on the 'how'. Hint: meditation, mindfullness and movement medicine. I teach the powerful 'Align & Shine' technique in my programs.
Biggest mama hugs to you for a beautiful week. With all the changes that have been going on in my life since my cancer experience early this year, I've been doing my best to be here for you. And as I would preach to you to do for yourself…. I needed to fill my cup first. And so I have. I've been healing on all levels with lots of supportive treatments and a loving team of family, friends and my partner. (more on that later)
My intention is to be blogging weekly to fortnightly once my website is updated. Please note my website will be down for 'a new gorgeous renewal' in a few days.
Loads of love to YOU & look forward to connecting again soon,
Mama Maria xoxo