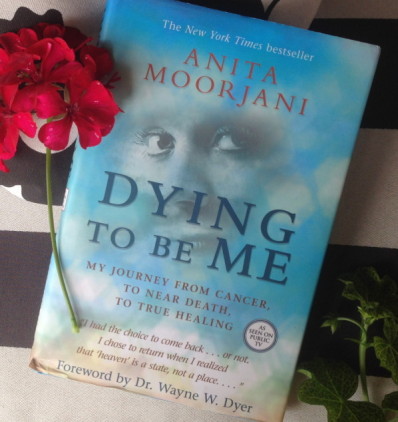 How this book has helped me BE MORE and GIVE YOU MORE ♥
I'm back 🙂  It feels so good to be here again with you. This is where my heart lies. To be loving of service to you. Yes, YOU  … your sweet self and your kiddies.
Stay with me as I develop more and more helpful gifts to drop into your inbox. 
I have so much to give I'm bursting!
It has now been six weeks since I had the shock surgery from renal cancer. The good news is that it was a rare cancer that has 90-95% success rate once removed. I feel great. I'm so grateful that I'm at a place in my life where my body and mind are so healthy and resilient. I feel deeply connected to my spirit and completely trust there's a reason for everything. I always look for the lesson or the silver lining.
Soon after diagnosis, a doctor friend of mine gave me a book called 'Dying To Be Me' by Anita Moorjani. It's a true account of a woman's journey from cancer, to near death, to true healing. She described her breakthrough moment in realising that we are so much more than who we think we are. We are incredibly magnificent. and powerful. Beyond. We've forgotten who we really are, constantly selling ourselves short of experiencing so much more love, more joy, and for-real happiness.
As a long-time spiritual seeker, I was grateful to be reminded of this. It prompted me to reflect on "how am I not being in my magnificence? What am I hiding, holding back on for worry about being judged? How can I bring more of ME into my life and to others. How can I live boldly and expose more, show more, shine more?"
And there it was. I realised I'd been hiding the depth of me. Its true I have a lot of scientific knowledge and loads of mainstream experience. What I haven't been so ready to expose are my soulful and intuitive gifts and passion. Why? Over the years I've had negative experiences and judgements from others. I've been sensitive. I've shut down.
My experience with cancer has given me a shake up. There's no time for contracting and playing small. Life can be short. We need to be MORE of ourselves NOW. We need to be aligned with what is real, true and important to us about ourselves and about life. 
The next step is to LIVE IT and to SHARE IT.
So here's how I'm going to live and share my soul purpose in helping mothers like you BE THE MOTHER YOU WANT TO BE and give your children WHAT THEY REALLY NEED so that you have life-long results of more love, more joy, more connectedness and amazing brain development.
I can offer you so much more than baby sleep wisdom. I've been limiting my gifts and knowledge by highlighting this as my main area of focus. 
So now you can expect me to give it ALL.
These are the sorts of things that will be coming your way:
voices of your baby- beautiful pearls of wisdom

voices of your toddler, child, teen, young adult (coming later)

interviews with experts in everything motherhood and soul

practical how-to's from baby sleep, feeding to toddler meltdowns and child anxiety

ways to deal with overwhelm and how to change your  brain to cope

how to wire your child's brain for emotional intelligence and build a life-long  amazing relationship with you

meditations to help you be the mother you want to be

lots more practical how-to's based on modern day science and ancient wisdom

how to live soulfully, enJOY motherhood and get the support you deserve through creating a village experience on-line.
Have I left anything out? I'd love to hear from YOU about what you'd like from me. Leave your ideas in the comments below. I really appreciate you. Thankyou for trusting me. I'm excited to bring you the very best and hear more about how I can help you. Just take a minute and leave a quick comment below.
Mama Maria xoxo